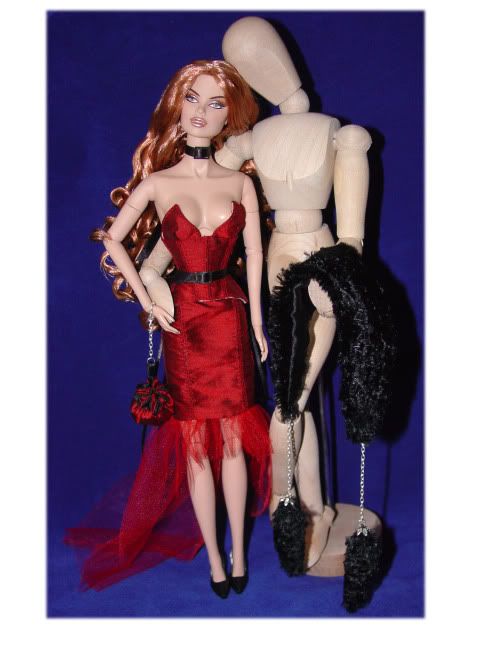 Pattern for an extremely fitted corset along with super slim skirt with tulle tail, wrap with tails,
stockings and non operational handbag.
Skirt has tiny zipper closure, corset has eye and ribbon closure.

Materials required:
Skirt and Corset: Shell upper— 1/4 metre/yard of fabric of choice. 1/4 metre/yard of bridal tulle.
Lining— 1/4 metre/yard of Bemsilk lining. 1 x tiny zipper. Eyes from hook and eye set. Matching thread.
Wrap: Scraps of faux fur, beads, invisible thread, cotton wool or fibre fill.

Stockings: 1/4 metre/yard of stretch tulle, glistenette or similar fabric. Garment is not suitable for regular ballerina or bridal tulle.
1/4 metre/yard of1—1.5cm (1/2—3/4") wide stretch lace. Matching thread. Optional: stranded embroidery floss.
Tiny zippers are available from www.zipperthatdoll.com
Pattern is in PDF format via digital delivery and contains 16 pattern pieces along with
'sequence of contruction' text based instructions.



If you want to be added to the One Sixth Couture mailing list to be advised of future site updates, please
e-mail me
.
If you wish to query my mailing list policy, please see my
Privacy Policy
.